Mon 21 Aug 2006
Living in a small town definitely has its rewards.  After all, we chose to live here because we were tired of dealing with daily traffic, housing costs, over crowding, etc.  However, in searching for furniture for our little one, this little town is lacking in options.  Our option…Baby's R Us, and Wallmart.  Not much of a choice.  So, we decided to take a little drive out east to the largest city in South Dakota, Sioux Falls to search through more options.  SF is located in the far south-eastern corner of the state, and about a five hour drive from Rapid City.  A 5-hour, flat, straight, put on the cruise-control and fall asleep type drive.  Fortunately, there are amazing things to see on the way…
Walldrug (definitely better than we thought),
the Corn Palace (the happinen' hot spot in the early 1900's),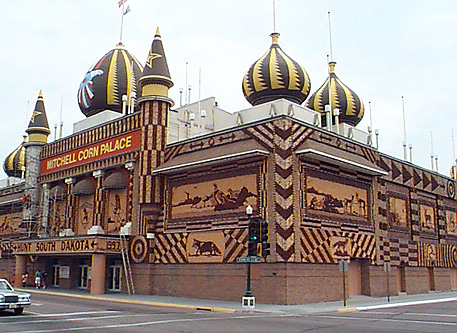 and Cabela's (with a totally cool indoor aquarium!).
After visiting each of these marvelous places, we finally made it to Sioux Falls, and eventually to Babytown – Kid's Stuff Superstore which offers a plethora of everything baby.  We found and purchased a convertable crib (no, nothing like a convertable car where our little one will be riding around town with the top down!), a dresser and hutch, among other things.  It was a very productive day!  Now we just need to get the baby's room finished!
Leave a Reply